Are you prepared to showcase your fashion sense with a combination of grace and playfulness? Look no further than high-low dresses. These dresses possess a captivating charm, an air of sophistication, and remarkable versatility. Featuring a unique shorter front and longer back hemline, high-low dresses have become an essential item for those who seek an enchanting ensemble suitable for any occasion.
In recent times, high-low dresses have witnessed an undeniable surge in popularity, capturing the hearts of fashion enthusiasts across the globe. These stylish garments have swiftly found their way into the closets of trendsetters, becoming a staple in every fashionista's wardrobe. With their distinctive design that effortlessly transitions between casual and formal settings, high-low dresses have become the go-to choice for those seeking a blend of contemporary flair and timeless elegance. From red carpets to street style, high-low dresses have solidified their place as a fashion must-have, providing a versatile and captivating option for numerous occasions.
Characteristics of High-Low Dresses: High-low dresses, also known as asymmetrical or mullet dresses, are easily identifiable by their shorter front or side hemline paired with a longer back hemline. Here are some common features found in high-low dresses:
Varied Hemline: The uneven hemline is the most distinguishing characteristic of high-low dresses. Typically, the front or sides of the dress are shorter, often reaching above the knee or mid-thigh, while the back hem extends to various lengths, ranging from tea length to floor length.
Dramatic Silhouette: High-low dresses create a visually dynamic and striking silhouette. The contrast between the shorter and longer lengths adds movement and interest to the dress, setting it apart from traditional hemlines.
Versatility: High-low dresses are available in a wide array of styles and cuts, offering versatility for different occasions. They come in casual, cocktail, and formal designs, allowing you to choose a high-low dress suitable for daytime and evening events.
Trendy and Modern: High-low dresses have gained popularity due to their modern and trendy appeal. They infuse a contemporary twist into traditional dress designs, making them highly sought after by fashion-forward individuals.
Showcasing Footwear: The shorter front or side hemline of high-low dresses provides an opportunity to showcase your footwear. They serve as an excellent choice for highlighting stylish shoes, sandals, or heels. The longer back hemline creates an elegant trailing effect while keeping the focus on your footwear.
Flattering for Various Body Types: High-low dresses can be flattering for different body types. The asymmetric hemline can create an illusion of longer legs and balance the overall silhouette. Additionally, the gradual lengthening of the dress from front to back can have a slimming effect.
Playful and Feminine: The flowing and playful nature of high-low dresses adds a sense of femininity to the overall look. The movement and drape of the fabric create a romantic and ethereal vibe, making them ideal for special occasions or summer events.
Whether you prefer a casual or formal style, high-low dresses offer a distinctive and attention-grabbing design that can elevate your outfit and make a fashion statement.
Beautiful and Attractive High-Low Dresses for Women in Fashion
Here are the top nine models of high-low dresses for women and girls
Blissful Satin High Low Dress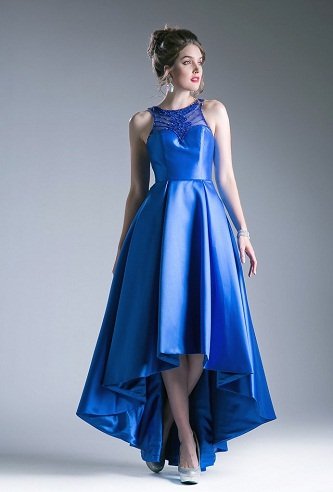 This sleeveless high-low evening dress features a royal blue shiny fabric with plain appliques throughout the body. It is a perennial favorite among fashion divas who prefer a regular waist cut, complemented by beads on the neckline.
Multiple Flares High-Low Dress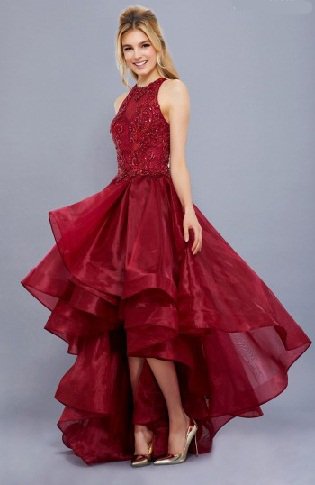 This exotic collection of wine-red high-low dresses boasts multiple flares. Sleeveless in design, it features a natural waistline, a regular bust pattern, and a unique neck design. While it may appear heavy, it is the perfect choice for any ceremonial function.
Unique Back Design High Low Dress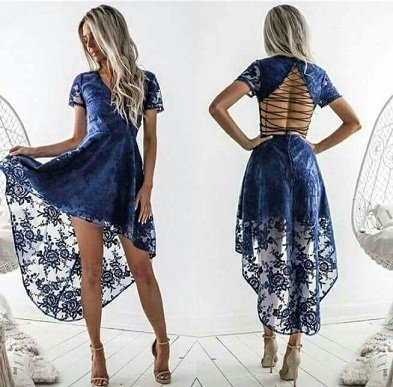 Featuring a blue shade and a white pattern design, this selection of high-low dresses with sleeves is simply fantastic. It has half sleeves and a floral print design on the skirt, which falls below the knee. This dress exudes sexiness and is sure to receive appreciation from your loved ones.
Neckless Type High-Low Dress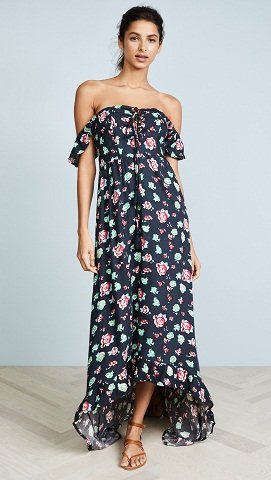 Set your eyes on this beautiful collection of high-low formal dresses. It showcases a unique pattern with a neckless model, made from pure synthetic fabric adorned with floral prints throughout. The dress cascades to the floor at the back, creating a long-length high-low model.
Full Sleeves High Low Dress
This authentic collection of black high-low dresses features full sleeves and a Bardot neck pattern. The outfit is crafted from solid black netted material.
Embroidered High-Low Dress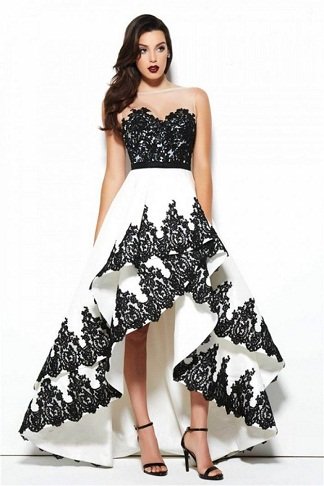 Indulge in the marvelous range of white high-low dresses adorned with black threaded floral embroidery. It showcases a neckless pattern, formally known as a sweetheart-type neck, with an embroidery design on the chest top and an asymmetrical skirt.
Pink Beaded High Low Dress
Adorn the adorable pink-shaded chiffon fabric high-low casual dress this season. You can also gift this unique collection of high-low dresses to your beloved sister or friend, making them look special for any casual occasion. The dress features full sleeves and intricate beadwork on the top portion.
Floral Appliques High Low Dress
Discover this high-low cocktail dress adorned with beautiful floral bow appliques on its waistline. The dress, in an appealing peach shade, is made from high-quality shiny net material, boasting two gorgeous flares.
Double Piece High Low Dress
Embrace the modesty of this range of high and low dresses. It consists of a two-piece, tight-fitting skater dress with floral appliques as the inner piece and a chiffon fabric outer piece serving as the Sequin tops high and low lined over layer with straps.
These dresses are available in a wide range of sizes, including plus sizes, and can be found in various fabric types such as chiffon, synthetic, satin, polyester, and high-quality crushed cotton. You have the option to customize your dress according to your preferences, choosing your favorite neck pattern, waistline, and back design.